Starting a journey across the country can bring about a blend of excitement and stress. Whether for a job, change, or family proximity, planning a move across country requires careful organization. Moving across town is a straightforward experience, but the complexities of planning a cross-country move, with its logistics and preparations, present a whole new level of challenge.
Learn how to plan a move across country with our comprehensive guide. From packing tips to choosing the cross-country moving company, we've got every aspect covered for you.
Establish Your Moving Budget
Before delving into the details of your cross-country move, it's vital to establish your moving budget. Moving costs can escalate quickly, underscoring the importance of establishing and sticking to a budget.
Assess Your Financial Situation: Calculate the amount of money you have earmarked for your move. Factor in any supplementary costs like renting storage, procuring packing materials, or arranging pet transportation.
Collect Quotes from Moving Companies: Reach out to reliable moving companies to gather quotes. Provide them with detailed information, encompassing the number of rooms in your home, the distance of the move, and any specific items needing transport.
Pick A Moving Day
Selecting the moving date is pivotal when preparing for a coast-to-coast move. Your choice of timing can greatly influence the overall experience and expenses associated with your relocation.
Keys to consider:
The Time of Year: Summer, known as the peak moving season, tends to be busier and more expensive due to the higher demand for moving services. On the other hand, spring and fall are generally considered to be more economical options. The weather during these seasons is often milder, making the process more comfortable and potentially reducing the costs associated with extreme weather conditions.
Visit our blog post to discover when is the cheapest time to move.
Arrange Your Route: Planning the route for your cross-country journey requires careful consideration. Opt for the most direct and efficient path to your destination. This not only saves you time but also reduces the stress of navigating unfamiliar roads. In addition to mapping out your route, remember to account for potential expenses along the way. Consider the cost of tolls, fuel, and meals during your travels to ensure that your budget remains on track.
Clear Out Your Home
Before you start packing, embark on a decluttering effort for your home. Thoroughly examine each room, donate or sell items you no longer need, and arrange your belongings systematically. This ultimately leads to time and cost savings.
Room-by-Room Evaluation: Begin the procedure by carefully evaluating each room in your abode. Create a collection of items that no longer have a function or significance to you.
Donations or Sales: Consider the possibility of donating or selling excess belongings. This approach saves both costs and reduces transported items.
Categorize and Arrange Your Property: Organize your possessions into clear categories like clothing, kitchen tools, or books. This systematic approach will notably streamline both the packing and unpacking phases.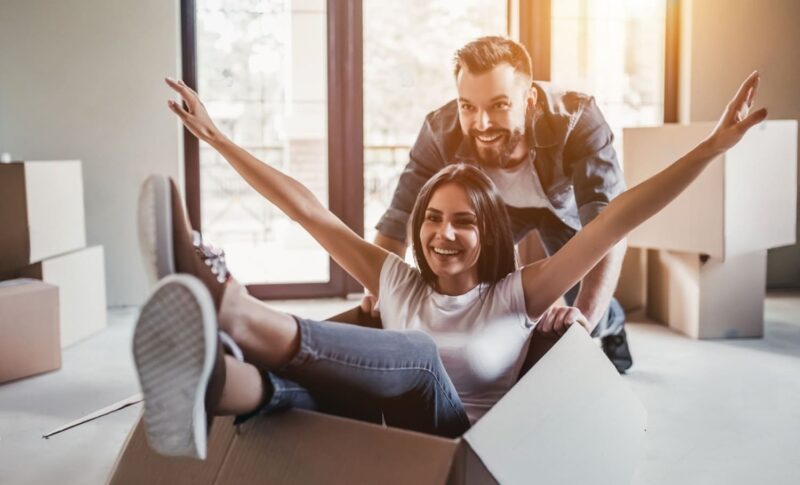 Hire a Long-Distance Moving Company
When planning a cross-country move, it is crucial to secure the services of a trustworthy long-distance moving company. Perform research on different moving companies, ask for recommendations from friends and family, and evaluate reviews and ratings.
Examine several moving companies and compare their prices, services, and assessments. Give preference to companies with a strong reputation and positive feedback. Thoroughly examine online reviews and ratings of potential companies. Remain attentive to any warning signs, such as instances of lost or damaged belongings. In the one week before moving confirm all details with your chosen company.
Prepare Your Belongings for Transport
Taking meticulous care in packing your possessions is paramount for a coast-to-coast relocation. Create a thorough inventory list detailing all items meant for transportation. This aids in tracking your belongings and ensuring their safe arrival at the new place.
Acquire necessary packing supplies like boxes, packing tape, bubble wrap, and packing paper. For delicate or valuable items, you might also consider utilizing professional packing services. Pack each room systematically, starting with less used spaces. Label every box with its contents and the corresponding room designation.
Moving Day: What You Should Be Prepared For
On the day of your move-in, there are several expectations to keep in mind. Thoroughly inspect your new home, give priority to unpacking essential items, and proceed at a pace that feels comfortable for you.
Inspect Your New Residence: Before you begin unpacking, meticulously inspect your new place for any damages or issues. Take photos and jot down notes about any problems that require attention from your landlord or the moving company.
Give Priority to Unpacking Essentials: Begin by unpacking crucial items like toiletries, bedding, and kitchen essentials. This method will make your adjustment smoother and increase your sense of comfort in the new surroundings.
Take Your Time: Give yourself the privilege of a relaxed unpacking and organizing process. Recognize moving stress, practice patience, and take necessary breaks.
While planning a move, whether it's across the country or within New Jersey, it's essential to choose a moving company familiar with specific areas. For those considering a move within Bergen County, our team has extensive experience in areas like Rutherford, ensuring a smooth and efficient relocation.
Final Thoughts
Getting ready for a cross-country move requires careful planning and preparations. By setting up your moving budget, choosing a moving date, decluttering your home, securing moving services, packing your belongings with care, and approaching move-in day patiently, you can ensure a successful and seamless transition. Don't hesitate to seek assistance when necessary and relish the adventure of your new abode.
Ready To Move?
Our moving company provides top-notch services that make the process seamless and stress-free. A team of professional movers is here to take care of every detail from packing to unpacking.