Moving across the country is both an exciting and challenging endeavor. Starting fresh in a new place, discovering new opportunities, and embracing change can be exhilarating. However, it's also a venture that comes with its fair share of obstacles. A cross-country move is a major transition that demands careful planning and thought.
Long distance moving can be financially taxing, and finding cost-effective ways to make the journey is paramount. In this blog post, we'll share strategies and tips to make your cross-country move affordable, so you can embark on your adventure confidently and stress-free.
Planning for a Budget-Friendly Move
Setting a Realistic Moving Budget
Before you start packing, it's crucial to establish a realistic moving budget. Your budget will serve as the guiding light throughout the entire relocation process. When setting your budget, consider factors like the move's distance, household size, and specific needs.
Identifying Cost-Saving Goals and Priorities
Once your budget is in place, identify your cost-saving goals and priorities. What aspects of the move are most important to you in terms of savings? Is it finding affordable transportation options, minimizing packing and moving service costs, or reducing miscellaneous expenses along the way? Clearly defining your priorities will help you focus your efforts and resources where they matter most.
Creating a Moving Checklist
Creating a comprehensive moving checklist is your first step towards a budget-friendly move. List down all the tasks, big and small, that need to be accomplished before, during, and after the move. This includes everything from finding packing supplies to notifying utility companies of your move. A well-organized checklist keeps you on track and identifies cost-saving opportunities as you plan and execute each task.
Downsizing and Decluttering
To make your cross-country move more affordable and manageable, downsize and declutter your stuff efficiently. This approach not only trims transportation expenses but also simplifies the entire process, offering several advantages. Choosing smaller transport options reduces moving costs, lessens packing time, and decreases the need for extensive supplies, ultimately saving you money. Moreover, downsizing provides an opportunity for a fresh start in your new location, fostering a less cluttered living space.
Begin decluttering with a room-by-room approach, creating separate piles for items to keep, donate, or sell, and discard using the 3-Box Rule to stay focused. When making decisions about items, ask yourself whether they are truly necessary or hold sentimental value.
When you've identified items you no longer need, explore these options: consider selling or donating. Efficient downsizing and decluttering save on moving costs and ensure a smoother transition to your new home.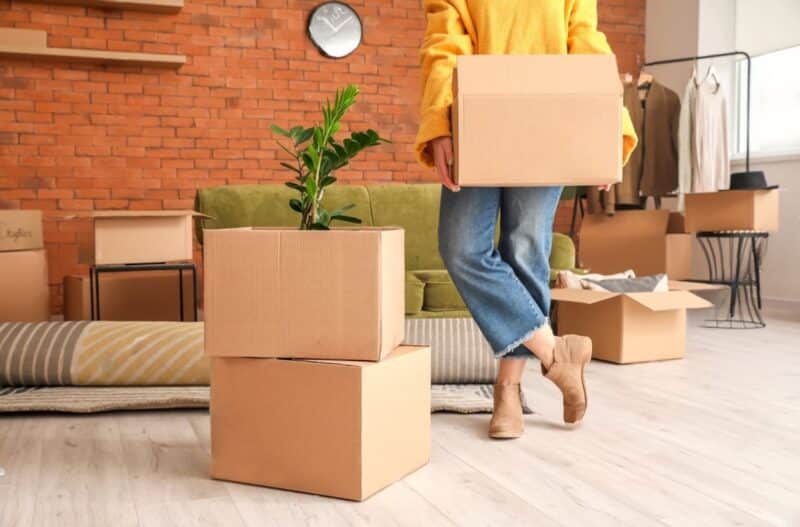 Choosing the Right Time to Move
The timing of your cross-country move can significantly impact your money and overall experience. Peak moving seasons, typically during the summer months when many families relocate, tend to come with higher moving costs. In contrast, off-peak seasons like late fall or winter often offer more affordable rates. Consider your personal schedule and commitments, like work, school, or family obligations, to strike a balance between cost savings and convenient timing.
Opting for midweek moves, particularly on weekdays (Tuesday through Thursday), can lead to lower rates since demand tends to be lower. Avoiding major holidays is advisable as rates may be higher during these times, and services may be less available. Lastly, explore last-minute booking deals if you can adjust your move-in and move-out dates, as companies may provide discounts to fill available slots.
Careful timing selection optimizes cost savings and convenience, making your cross-country move cheaper.
Exploring Transportation Options
For cross-country moves, various transportation options exist, each with its own set of benefits and drawbacks:
Rental Trucks: Renting a moving truck allows for flexibility and cost control. You load and unload your belongings, choosing the route and timeline. However, it involves physical labor and navigating a large vehicle.
Moving Containers: Some companies offer portable containers that you load and transport. It provides flexibility but may require storage if there's a gap between moving out and moving in.
Shipping Services: Shipping your belongings via freight can be cost-effective for long-distance moves but requires careful packing and planning. You may also need to pick up your items at a depot.
Professional Moving Companies: Hiring moving companies cross country can reduce the physical and logistical stress of moving. They handle packing, loading, transportation, and unloading. However, it's typically the most expensive option.
Explore various transportation options that fit for you. Rental trucks for flexibility, moving containers for convenience, shipping services for cost savings, or professional movers for a stress-free experience.
Booking Transportation Well in Advance to Secure Deals
Securing transportation for your cross-country move should be a priority, and booking well in advance can yield significant benefits:
Money Savings: Many moving companies offer discounts for early bookings or during off-peak seasons. Booking ahead allows you to take advantage of these deals.
Availability: Popular moving dates fill up quickly, especially during peak seasons. Booking early ensures you get the dates that work best for you.
Planning: Early booking gives you more time to plan other aspects of your move, such as packing and logistics.
In summary, researching your transportation choices and booking ahead can lead to a cost-effective cross-country move and a smooth transition to your new home.
Maximizing Cost-Efficient Routes
Choosing the right travel route for moving cross-country can significantly impact your costs and the overall journey. Here's how to map out the most economical route:
Online Tools: Utilize online mapping services and GPS apps to plan your route. These tools can help you find the shortest and most fuel-efficient path.
Consider Scenic Byways: While highway routes are often faster, they may come with higher tolls and expenses. Research scenic byways and secondary roads, which can offer more affordable alternatives.
Plan Stops: Identify cities or towns along the way where you can rest, refuel, and potentially find lower-cost accommodations.
For long-distance moves, you'll likely need to stop and rest overnight. Finding affordable accommodations can help reduce your overall moving money:
Budget Lodging: Look for budget-friendly hotel chains, motels, or inns along your route. Booking in advance can also secure lower rates.
Camping Options: If you're open to camping, consider staying at campgrounds or RV parks. Camping fees are often lower than hotel prices.
Extended Stay Hotels: If your move requires an extended stop, explore extended stay hotel options that offer kitchenettes, allowing you to save on dining expenses.
By carefully planning your route, and finding cost-effective accommodations along the way, you can make your cross-country move not only more budget-friendly but also more enjoyable and stress-free.
| From New Jersey | Destination City | Category | Estimated Cost | Actual Cost | Difference |
| --- | --- | --- | --- | --- | --- |
| New Jersey | New York, NY | 80 miles, 3-bedroom, Packing services | $5,000 | $4,800 | -$200 |
| New Jersey | Los Angeles, CA | 2,800 miles, 2-bedroom, Vehicle transport | $7,500 | $7,800 | +$300 |
| New Jersey | Chicago, IL | 800 miles, Studio, Storage services | $3,000 | $2,900 | -$100 |
| New Jersey | Houston, TX | 1,600 miles, 4-bedroom, Pet relocation | $6,500 | $6,700 | +$200 |
| New Jersey | Phoenix, AZ | 2,400 miles, 1-bedroom, Special furniture handling | $4,500 | $4,400 | -$100 |
Estimated Moving Costs from New Jersey to Major U.S. Cities
Utilizing Discounts and Special Offers
One of the smartest ways to make your cross-country move more affordable is by taking advantage of discounts and special offers. Research moving companies and request quotes from multiple providers. Compare their pricing and look for any ongoing promotions or discounts they may offer.
When booking accommodations along your route, check for discounts and deals through online travel websites, hotel loyalty programs, or coupon websites.
Look for discounts or bulk purchase options for packing supplies, such as boxes, tape, and packing materials, at local stores or online retailers.
Don't be afraid to discuss the possibility of discounts or additional services as they may be willing to accommodate your requests to earn your business. Effective negotiation can result in cost savings and added value.
When requiring packing supplies or equipment rentals, inquire about bulk discounts or promotions from your suppliers. Suppliers often offer deals on larger quantity purchases, lowering your moving expenses.
DIY vs. Professional Services
Deciding between a DIY move and professional services is a critical choice that depends on your circumstances and preferences. Here's a balanced look at the pros and cons of each option:
DIY Move (Pros):

Cost Savings: DIY moves are often more budget-friendly, especially if you can enlist the help of friends and family.
Control: You have complete control over the process, from packing to driving.
Flexibility: You can choose your own schedule and make decisions on the spot.

DIY Move (Cons):

Physical Labor: DIY moves require heavy lifting and can be physically demanding.
Logistical Challenges: Coordinating the logistics of a long-distance move can be complex.
Safety Risks: Improper lifting or packing can lead to injuries or damage to your belongings.

Professional Services (Pros):

Efficiency: Professional movers are experienced and can pack, load, and transport your items efficiently.
Safety: Movers are trained to handle your possessions carefully, reducing the risk of damage.
Time Savings: Professionals can execute the move quickly, freeing up their time for other tasks.

Professional Services (Cons):

Cost: Hiring movers is typically the most expensive option for a cross-country move.
Less Control: You relinquish some control over the process to the movers.
Scheduling Constraints: You must adhere to the moving company's schedule.
The decision between a DIY move and professional services should be based on your specific circumstances and preferences. Both options have their pros and cons, so weigh them carefully to make the choice that best suits your needs.
Whether you're considering a move within bustling cities or to scenic towns like Ridgewood, Ridgewood Movers NJ is equipped to assist you.
Aspect
DIY Move
Professional Services
Cost

Yes

(Lower)

No

(Higher)
Control

Yes

No

Flexibility

Yes

No

Physical Labor

Yes

(Higher)

No

(Lower)
Logistical Challenges

Yes

No

Safety Risks

Yes

No
DIY vs. Professional Services: A Comparative Analysis
Choosing Professional Services That Fit Your Budget
If you decide to go with professional moving services, there are effective strategies to ensure that they align with your budget.
Start by obtaining quotes from multiple moving companies to make informed comparisons of prices and services. Additionally, don't hesitate to inquire about available discounts, promotions, or off-peak rates that can potentially help reduce your overall costs. Another option to consider is customizing the services you require; for instance, you can hire movers solely for loading and unloading while managing the packing yourself. Moreover, selecting moving dates during off-peak times or mid-week can increase the likelihood of securing lower rates.
Tips for Hiring Reliable and Affordable Movers
When it comes to hiring professional NJ movers, two critical factors are reliability and affordability.
Begin by researching moving companies to identify reputable ones with positive reviews and a proven history of providing reliable services. To protect your belongings, ensure that the company is properly licensed and insured. Gauge the satisfaction level of previous customers by requesting references from the moving company. Obtain a detailed, written estimate that encompasses all costs, thus avoiding any unpleasant financial surprises. Lastly, carefully review the moving contract before signing it to clarify any uncertainties and ensure a clear understanding of the terms.
In conclusion, the choice between a DIY move and professional services should be based on your priorities and budget considerations. Weigh the advantages and disadvantages of each option, make an informed decision, and if you opt for professional services, conduct thorough research and negotiation to secure reliable and affordable movers for your cross-country journey.